Giveaway Winner! - Hanna Hutcheson was the winner of our first-ever giveaway this week. Hanna, please send me your address and I'll get your prize in the mail right away! Thanks everyone for entering. I really appreciate you taking the time to visit and comment on Tasty Nest.
I am so grateful for everyone who has visited and stuck with me this first month as I've been learning the blog world. I really expected that there would be a just a handful of people besides my mom and dad that were interested in anything I had to say but I passed 4000 visitors in one month this weekend! Go ahead and be surprised...I was shocked, and grateful. I so want to do a good job for you all but truth be told I'm really just having a heck of a lot of fun. I know I have a long way to go and I promise to keep working on getting better.
To thank all of you for visiting, we're having our first giveaway this week. The prize is a sweet little 3-piece set of sparkling bird ornaments nestled in their nest along with a ceramic measuring spoon set (value $35). If we're being real, since this is our first giveaway it should be our smallest group, right? Your chances of winning couldn't be better!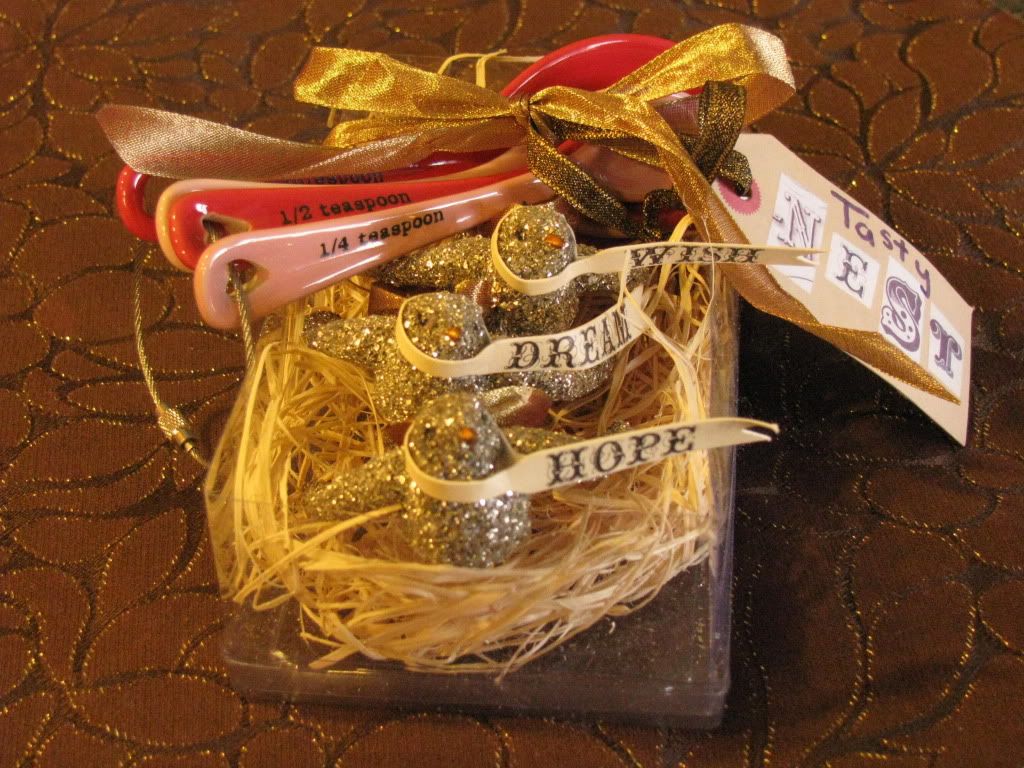 To enter the giveaway all you have to do is become a member of the blog by clicking "Join this Site" on the right side under "Become a Follower." You don't have to have a google account or be a blogger to enter the contest just have an email address. The contest is open to everyone. The deadline to enter is next Monday, Dec. 5 at 12 p.m. CT. I'm using random.org to pick a name from all blog members (including current members.)
Again, thanks very much for sticking with me. Your comments mean a lot to me so please keep them coming.