We are all pound cake lovers in our family. I think if we had bought stock in Sara Lee, we'd be set now. Years ago, I came across this recipe in our local paper that tops any pound cake I've had, including the ever-yummy Miss Lee's. To tell you the truth, the newspaper article credited this recipe to a former beauty queen, orange juice spokeswoman but I just can't make myself tell you her name. I just can't abide mean-spirited people. Sorry ma'am. Something else I can't abide...mace. The spice, not the creep repellant (of course I'm in favor of the repellant stuff.) . The original recipe called for a 1/2 tsp of Mace and I gave it an honest try but really? Yuck. How does anyone eat that stuff? If you wake up in the morning with a hankering for this stuff, add 1/2 tsp in with the flour.
What I love about this pound cake besides the delicious flavor is the creaminess, super light texture, and crispy, kind of merangue-ey slight crunch of the crust. I have renamed this cake Lay's Pound Cake - I dare you to eat just one piece. Don't ask me how many I've ate this week, I'm thoroughly addicted to it. Please please try this cake. I love you that much, I want you to have the best. I'm currently working on a little idea for including it in my Christmas cookie basket.
When beating egg whites for any recipe, its crucial to start with a scruptiously clean glass or metal bowl. I've found the easiest way of separating eggs is through my clean fingers (as opposed to my dirty ones.) You can separate a pile of eggs this way faster than anything. But even a speck of egg yolk will keep the whites from whipping so be super careful when separating. The whites will be foamy when you start beating them, then turn white. Once they turn a glossy white, they'll go from soft peaks to firm peaks quickly so be careful to not overbeat. I sort of push the beaters of my handmixer away from me and towards the edge of the bowl to check the firmness of the peaks.
Lay's Pound Cake
**Bonus! recipe makes two 9x5 loaf-size pans.
Ingredients:
2-2/3 C sugar, separate 6 level Tbls of this out
8 medium or 7 large eggs, separated and at room tempature
1 pound (4 sticks) unsalted butter, room tempature
1/4 tsp salt
3-1/2 C all-purpose flour
2/3 C light cream or half-and-half
1 tsp vanilla extract
Preparations:
Butter and flour two 9x5 inch loaf pans (I use the empty butter wrappers to butter pan).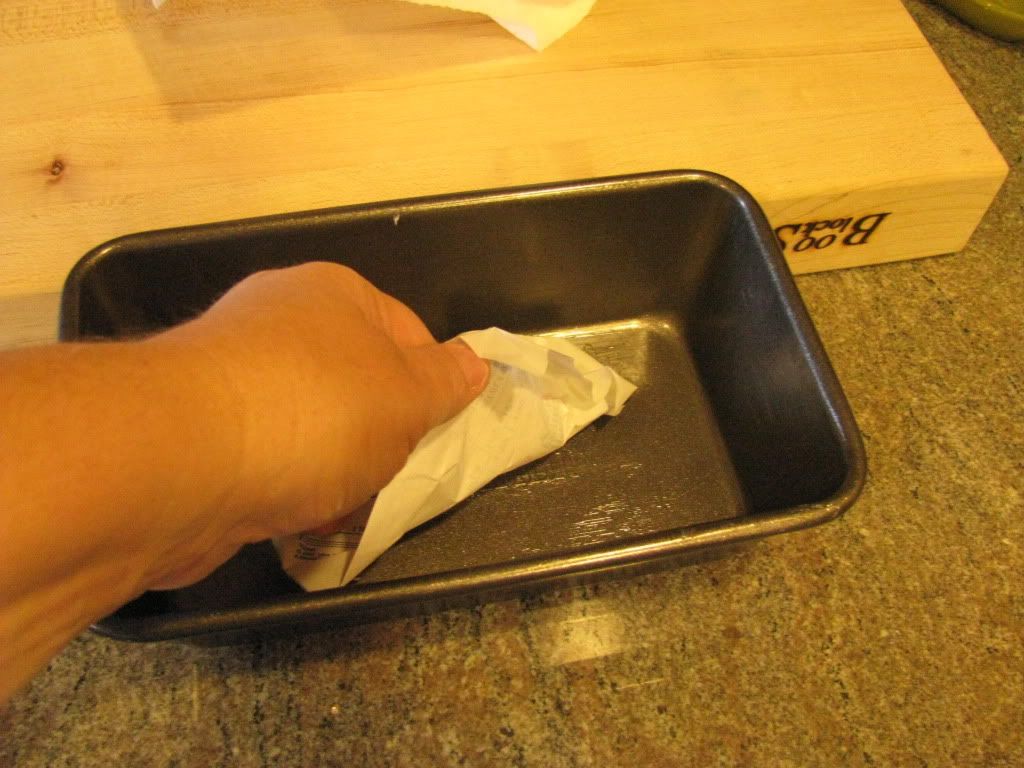 Beat the egg whites until soft peaks form then gradually beat in the 6 Tbls sugar. Place this bowl in the refridgerator until you need it.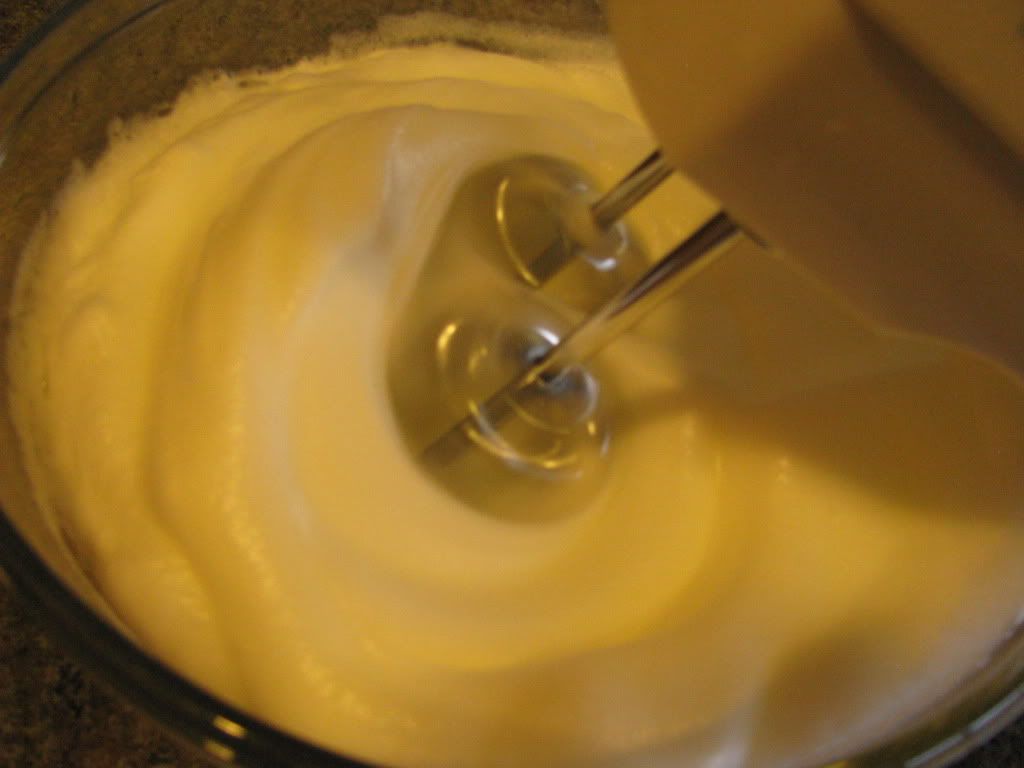 In a large bowl, cream the butter well. Gradually beat in the rest of the sugar and the salt, then beat in the egg yolks, two at a time until well mixed.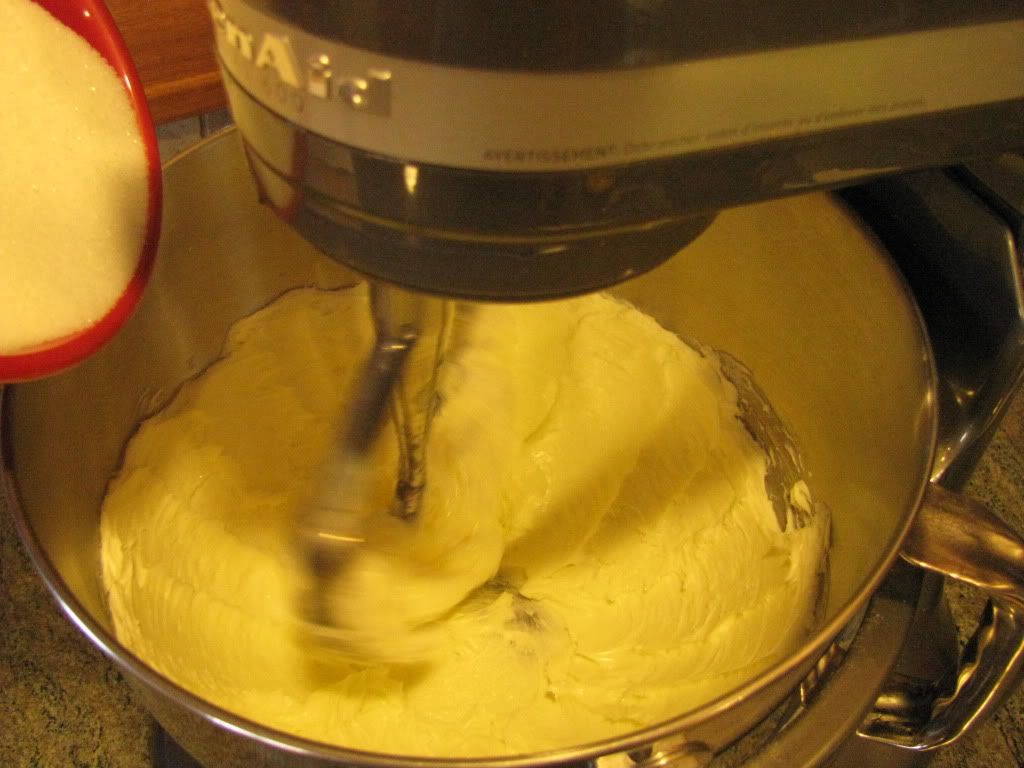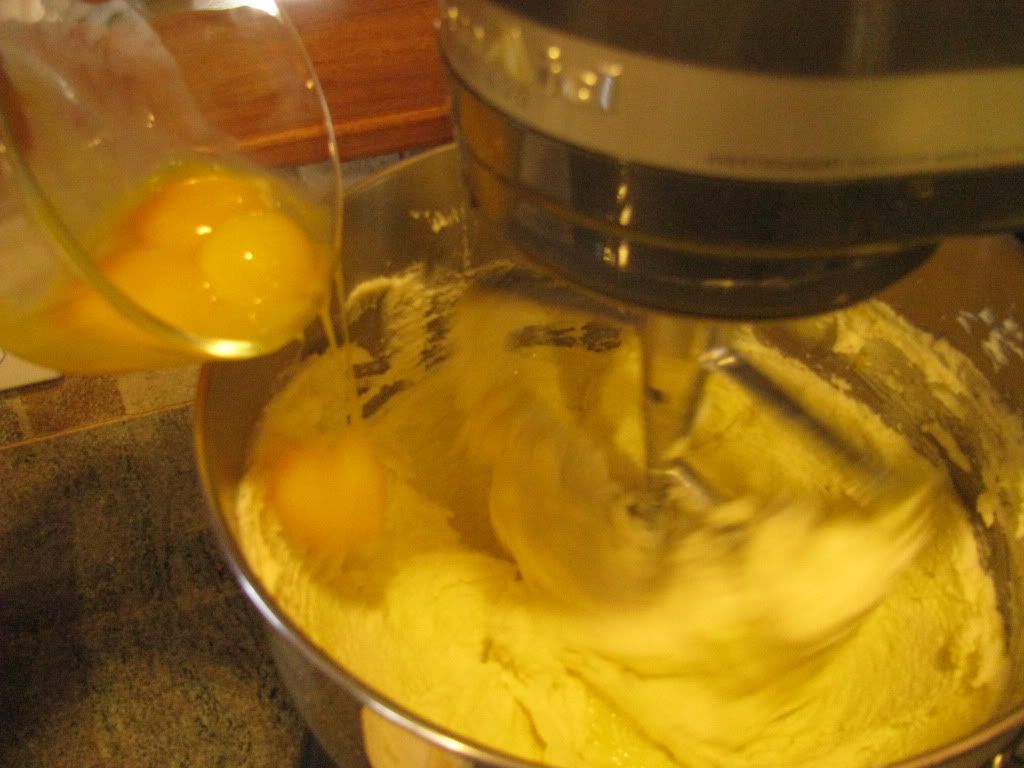 Add the flour (in 3 parts) and the cream (in 2 parts) alternately to the butter mixture, beginning and ending with the dry ingredients. (Turn the mixer down when adding the flour and then back up or you'll have flour all over the counters and you.) Whip until the batter is a light as possible, about 10 minutes at medium speed.
Then fold in the vanilla and egg whites in 3 parts into butter/flour mixture. It will start as a heavy batter and get easier with each addition of egg whites.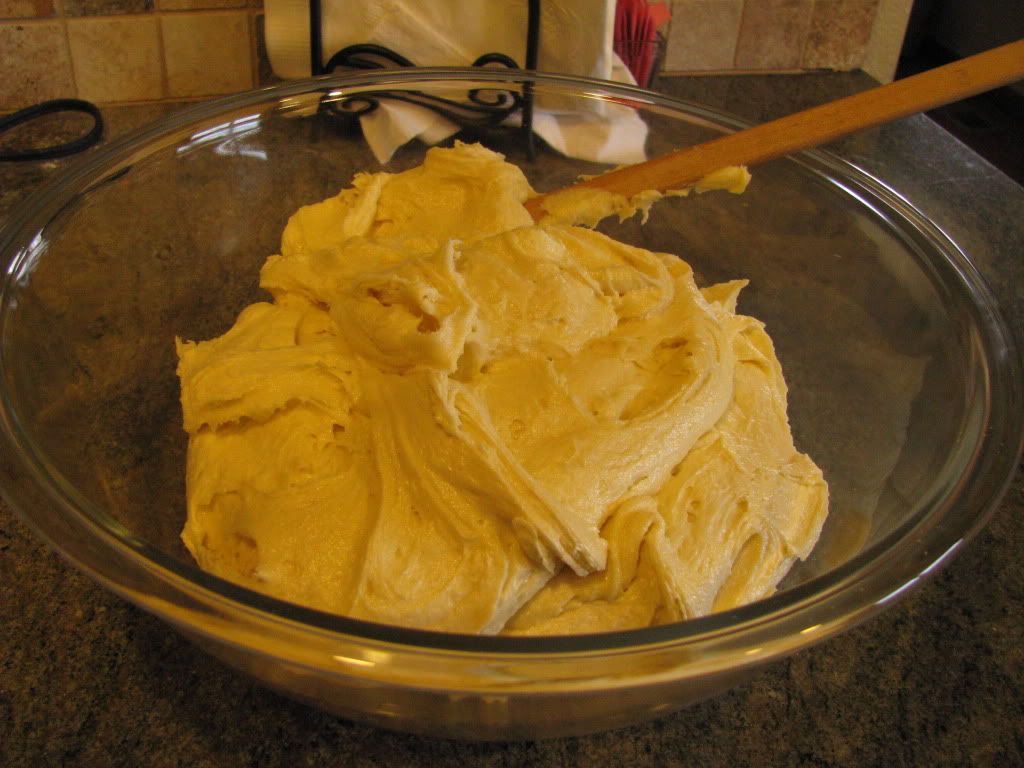 Pour the batter into prepared loaf pans (go ahead and lick the spatula. The best tasting cake batter there is.)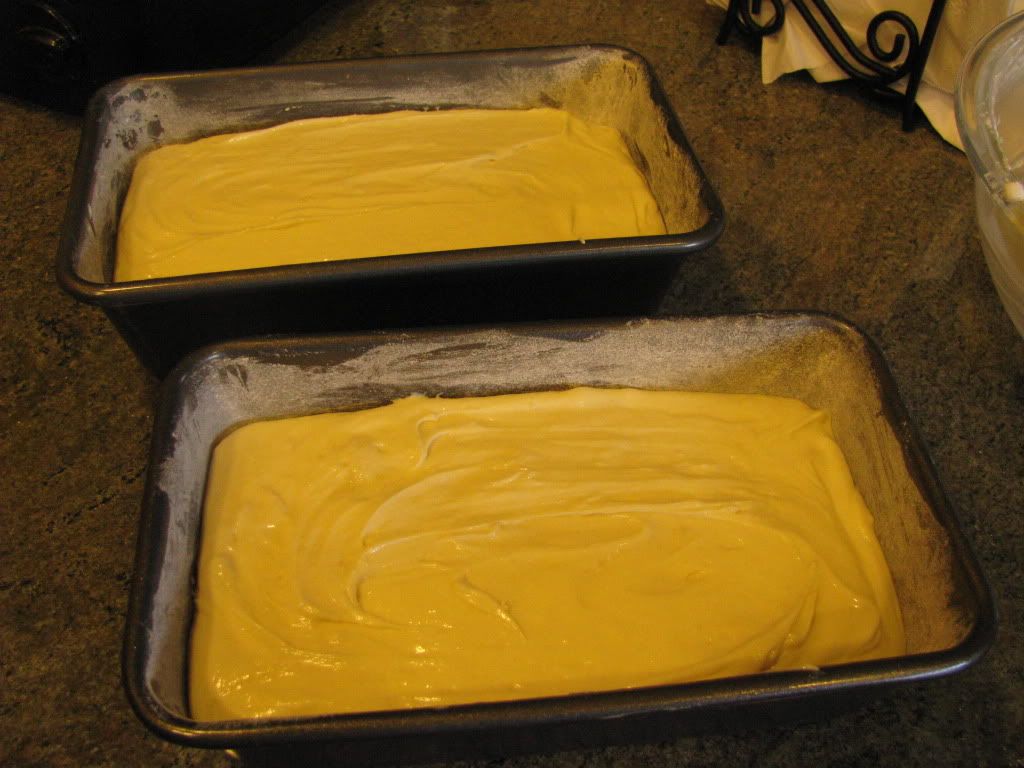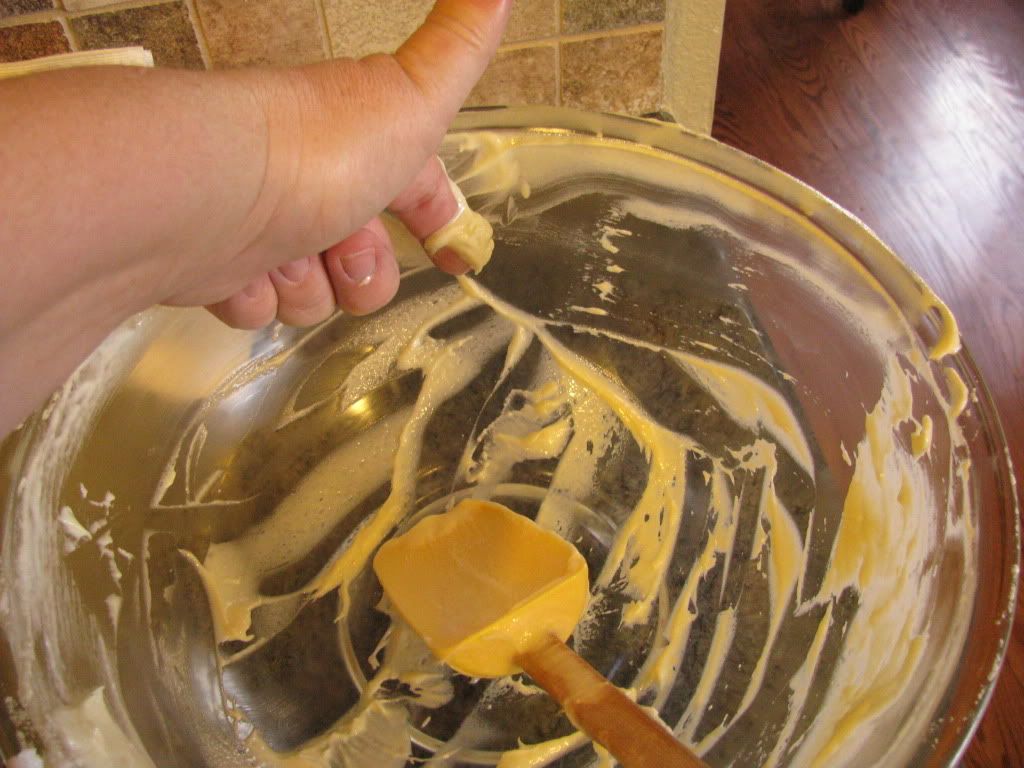 Bake 50-60 minutes until toothpick stuck in the middle comes out clean. Make sure to get the really clean toothpick or you'll have ribbons of "undone" cake throughout. Its still yummy but not as pretty. Cool on a rack for 15 minutes. Invert onto another rack and re-invert again so cake will finish cool right-side up.
When the cake comes out of the oven, it will have a nice dome. It will fall about 1 inch as it cools. This is supposed to happen.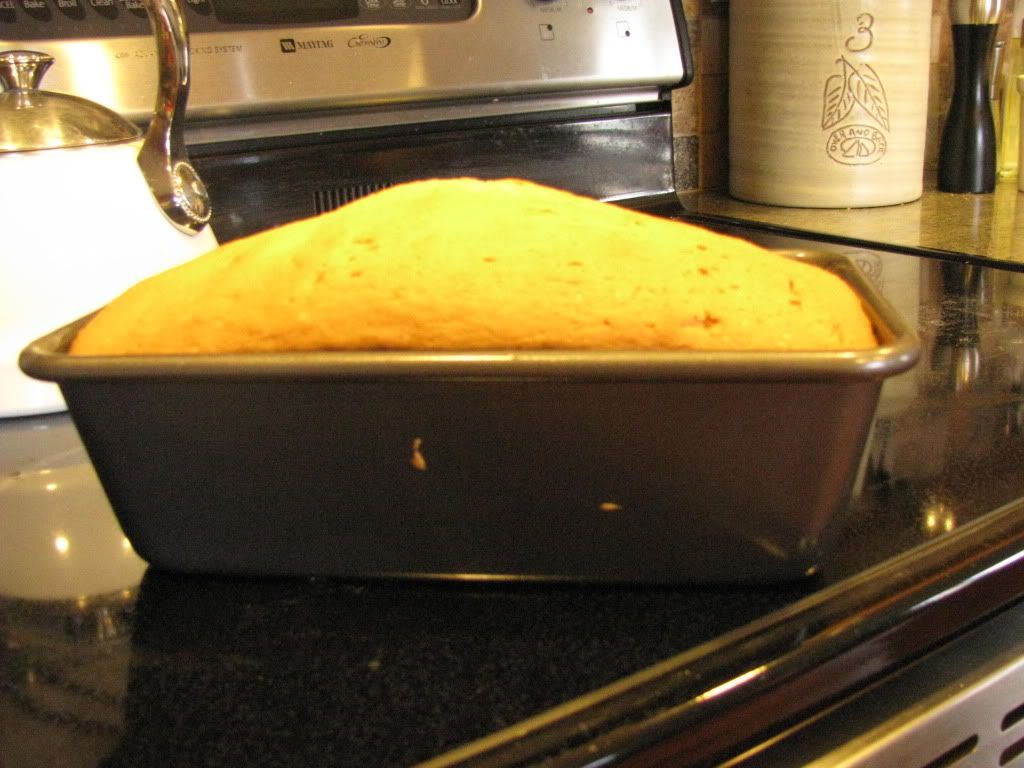 Excuse me, I need to go make some more cake. Enjoy!